Truck Wheelchair Lift – Vehicle Mobility Solutions
Need a vehicle lift that will work on the inside of your car? We've got you covered!
For all of those truck ridding lovers, we have the perfect solution to overhaul your ride and make it more accessible when having reduced mobility.
Purchasing a new accessible vehicle can be expensive, but using one of our will not only reduce your expenses.
What is a wheelchair lift?
A wheelchair lift is a mechanical device which main function is to allow individuals with reduced mobility to access or exit a vehicle by uplifting them on a platform that moves up or down when needed, making it easier to access vehicles heights and get back on track.
There's a perfect wheelchair lift for every customer. Choose the one that best suits your needs within the variety of models and styles offer here at RampNow. We are experts in solving your mobility requirements of freedom and comfort. We know you want to live your way with the independence necessary to make your own decisions, having a wheelchair lift is the simplest way to get there.
Whether you prefer the stability and strength that characterizes the models with dual-post or the comfort and adaptability of a single-post split-platform lift; it makes it easier for your fellow passengers to access the vehicle in without uninstalling the lift after every use. At RampNow we have all the best models available with the latest technology and features.
With the amount of different options that we have available, we can find the perfect fit. In addition to maximizing space on the inside of your vehicle, you can be sure that your scooter, power chair, wheelchair, or other mobility device will be kept safe from the elements.
The Process is SIMPLE! You fill out the form and we call you with different options!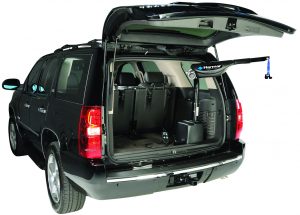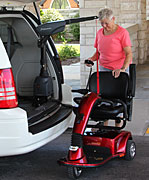 Braun Century Series Wheelchair Lift: Dual-Post Wheelchair Lift
Steady functions for a fraction of the price
Powered by dual hydraulic lift arms, Century series stands out not only for its durability but for its economic, strong, and streamlined design that comes with all the perks of the Braun Ability brand. With an improved simpler construction, this lift offers highly maneuverable conditions, while the non-hydraulic spring-loaded roll stop secures your integrity during the lifting process.
Braun Millennium Series: Braun Millennium Wheelchair Lift
Dual-Post Wheelchair Lift
Tight Parking? Fixed it with a side-entry lift
The Millennium model from Braun Ability stands out for including a standard side-entry platform that allows you to avoid all the difficulties from a tight parking situation. Enter and exit your car without any discomfort or awkward moments with a highly durable, resistant and steady lift that will make most of the work for you.
Braun UVL Under Vehicle Lift
Dual-Post Wheelchair Lift
Under Vehicle Storage for Maximum Interior Space
Thinking about all your comfort requirements, Braun developed the UVL or Under Vehicle Lift®, a lift for the highly demanding customers seeking for the best product available in the market.
The UVL is at your disposal all the time, conveniently installed under the car, and out of sight, until you need to enter or get down of the vehicle. Its revolutionary design allows greater visibility while driving, occupying less space in the cabin, offering more comfort for passengers and companions, and improving your driving experience on each trip.
Ricon Clearway Split Platform Wheelchair Lift
Dual-Post Wheelchair Lift
Ricon Clearway ™ Series Split Platform
For those who are looking for comfort or maybe are getting back to the highway, Ricon's Clearway's model offers a fully automatic split wheelchair lift that will folds up and out with a single push of a button, making its use highly convenient when there are multiple vehicles in home and its essential to keep the doorway clear. Its highly reliable structure, has a non-skid platform made of steel and comes equipped with a hydraulic motor, and automatic inboard and outboard roll stops to guarantee the stability and safety you've being looking for.
Ricon Klearvue
Ricon Wheelchair Lifts Ricon Klearvue Folding Platform
Dual-Post Wheelchair Lift
Ricon KlearVue ™ Folding Platform
Improve your visibility while driving with a KlearVue Wheelchair Lift. Its innovative foldable design doesn't require extra modifications of your vehicle's rooftop or doors, allowing you to have a full visibility range to take control of the car and let your passengers enjoy the view in the next family trip.
Ricon Slide-Away Wheelchair Lift
Dual-Post Wheelchair Lift
Ricon Slide-Away ™ Platform Lifts
Another valuable option for full parking is the Clearway's fully electronic split platform. This wheelchair lift folds up without you or your loved ones having to make any effort. With the single touch of a button, its highly reliable steel structure will fold quickly and conveniently in no time. Equipped with sturdy handrails and a non-skid platform you will enjoy greater safety while getting on or off your vehicle without further complications.
Ricon UNI-Lite
Dual-Post Wheelchair Lift
If you are looking for convenience and maneuverability, the UNI-Lite aluminum wheelchair lift is the perfect equipment for you. Among its most impressive features, the Uni-Lite includes handrails with control switch, an internal swing door operator, a durable and robust structure with a built-in manual back up, and a sliding door operator easy to use with remote control, and roll-stop with incorporated mechanical latch.