"I contacted Ramp Now through Angie's List and very promptly got a
call back from Carlos the General Manager. He was great from the start.
Very friendly and willing to help.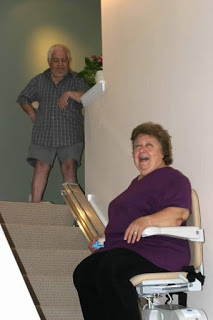 A couple of days later, Troy
(one of the technicians) came out to provide an estimate. Ramp Now
doesn't have sales people. The actual people who install the equipment
come out to do the evaluation. I think this is a very good idea as they
are the technical experts and know what is best from an equipment and installation standpoint.
Troy was very polite and nice. He gave us a quote for a stair chair
that would fit our needs. We discussed the options of renting vs.
buying. I called Troy back several times that afternoon to clarify some
of our questions. He was very nice and patient.
We decided to buy
the unit. Even before I could call Carlos to let him know, he called me.
That was on a Monday. That Wednesday, another installer – Jorge
was out to put the unit in. Jorge was also very nice and efficient. He
was extremely polite to my mom and was very careful to show her how to
use the chair. He was very clean and efficient in his work.
Carlos called me the next day to check on us.
So in conclusion, I can say that working with Ramp Now was a great
experience and I would not hesitate to recommend them to anyone. I would
gladly use them again. They have my trust.
If you are looking for
an honest and quality organization for any need having to do with
helping people stay mobile, they are your company."
– Mr. A. Edwards * Sandwich, IL