Heavy Duty Stair Lifts
A lot of work has gone in to selecting stair lifts that have all the essentials and safety features to make your home more accessible, but at the same time not skimping on quality or design. We are proud to offer the following Heavy Duty stair lifts!
Pinnacle Heavy Duty Stair Lift
Harmar delivers an industry-leading 600-pound capacity with the Pinnacle™ SL600HD stair lift. Extending the many benefits of the Pinnacle's patented Worm Drive, the SL600HD features a premium ride, little to no maintenance, comfortable seating, and ease of access with a 85° swivel — now with extraordinary lifting capacity. High-backed, contoured 25" wide seat ensures a comfortable and secure ride. Sturdy, stationary armrests and reinforced footrest add stability for safer transfers. Slides out from wall as it pivots at top landing.
*Fill out our contact form on the right for your free home evaluation done by our qualified technicians! No Sales people EVER!*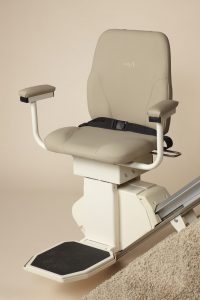 Handicare XXL 
If you need a heavy duty stair lift, but think your stairs may be too narrow, the Handicare 1000 XXL is just what you need. This stylish straight stairlift track fits on even the narrowest stairs. With its range of features, this stairlift can be fully tailored to meet your individual needs. Features include: a foldable footplate (manual or, optional, automatic) and a seat available in 6 different colors. It goes without saying that Handicare always delivers this seat with a reliable seat belt for your added security. It comes standard with powered swivel. The Handicare 1000 is suitable for users weighing up to 440 lbs.